We are expanding the network of experts who promote active fatherhood
July 23, 2020
News
There can be no gender equality without equal division of unpaid work which includes childcare and household chores.
Status M has been promoting engaged fatherhood for years and encouraging men to become active and caring dads. In addition to the implementation of the Program T workshops with fathers in kindergartens and penitentiaries and the organization of the annual Fathers' Festival, we have been working actively with experts. Over the years, we have trained numerous professionals and encouraged them to promote gender equality in the family life.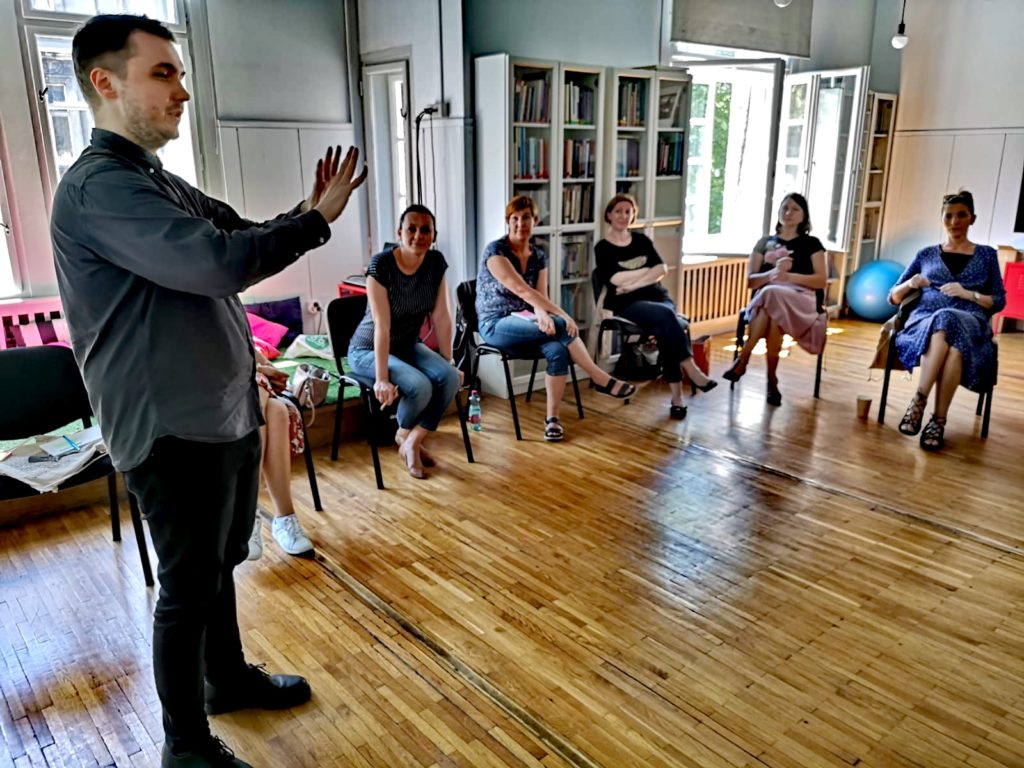 The last in a series of such training events was a seminar held on July 9 and 10 which brought together 15 social workers and psychologists who work with men. Our goal was to introduce the participants to the methodology of the Program T which offers concrete strategies for involving men in active parenting from pregnancy to early childhood.
The seminar provided the participants with the tools they need to promote the involvement of men in ensuring the well-being of mothers and children – from theoretical propositions to concrete workshops for direct group work with fathers. Through interactive experiential methods and demo workshops, the participants gained skills they need to work independently with fathers and future fathers to encourage active parenting, promote gender equality and prevent violence against women and children.
The participants were extremely satisfied with the seminar. Many stated that the content would be very useful for their future work, especially the demo workshops which allowed them to put what they had learned into practice. They also said they were interested in future cooperation with Status M on these topics.
It was not easy to select participants from more than 90 quality applications. Due to health reasons, we decided to work with a small group, but in the coming autumn, we plan to organize two more seminars to allow as many interested experts to participate.
The activity was implemented by Status M within the framework of the Young Men Initiative II – The Men and Boys as Partners in Promoting Gender Equality and prevention of Youth Extremism and Violence in the Balkans project, supported by CARE International Balkans, Austrian Development Cooperation and Oak Foundation
#YMI #CareInternational #CARE #ProgramY #ProgramE #SvicarskauBiH #AustrianDevelopmentAgency #OakFoundation