"Real Man" award ceremony in Belgrade
November 22, 2019
Regional and International, YMI News
Actor Branislav Trifunović was officially honored with the "Real Man" award for 2019 on 19 November 2019, on the International Men's Day, at the premises of the EU Info Center, organized by the Center E8.
The actor received the award for his cultural and artistic work on promoting human rights, gender equality, nonviolence, humanity, and tolerance. Throughout his previous work, Branislav Trifunović has shown that he is a sharp opponent of injustice, violence, and intolerance and as such is a positive example of masculinity for young men and men.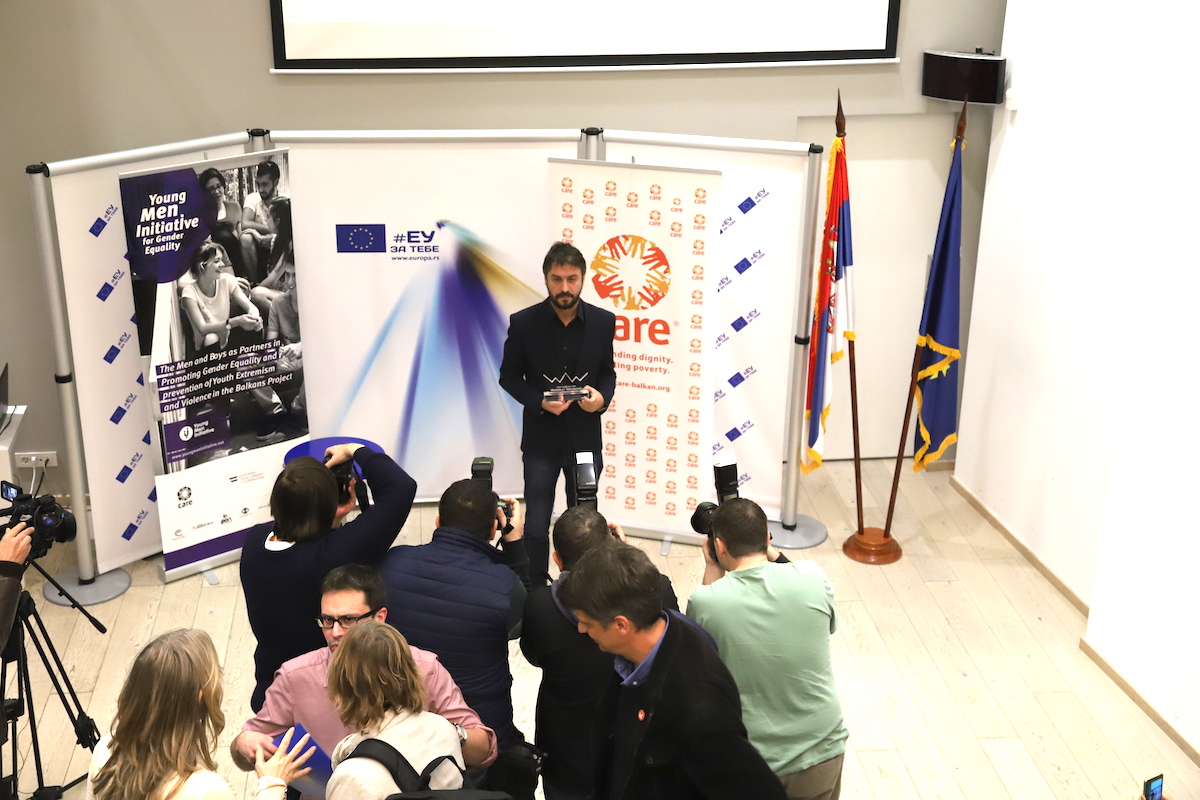 The award is given out of the need to provide young men with new role models, as explained by Branko Birač, Program Manager of the Center E8. The award was presented by a previous winner, Renato Grbić, who emphasized that it was difficult to be a man in this time and that we did not often pay attention to other people's problems and troubles, and that he was glad that he would give the award to Trifunović.
In his address to the guests and friends of the organization "Real Man" in 2019, Branislav Trifunović thanked the Center E8 and pointed out that his struggle was, in fact, a struggle for dignity, and that the real man was the one who tried to live in love. He emphasized that all his life he had been trying to put a man at the center of his interests and actions.
Center E8 has been awarding the "Real Man" Award for the sixth time, and previous "real men" Marko Somborac, Saša Janković, Marko Šelić Marčelo, Zoran Kesić, and Renato Grbić were the jury, which decided on the winner of the award.
The activity is organized within the project Young Men Initiative II: "Men and Boys as Partners in Promoting Gender Equality and addressing Youth Extremism and Violence in the Western Balkans", supported by CARE International Balkans, Austrian Development Cooperation and OAK Foundation.